SUMMER PUNCH PASS
JUNE 1 - AUGUST 31
The summer punch pass is perfect for those coming home for the summer or for those who are looking to try the YMCA before purchasing a membership. Grab your summer punch pass at the front desk today!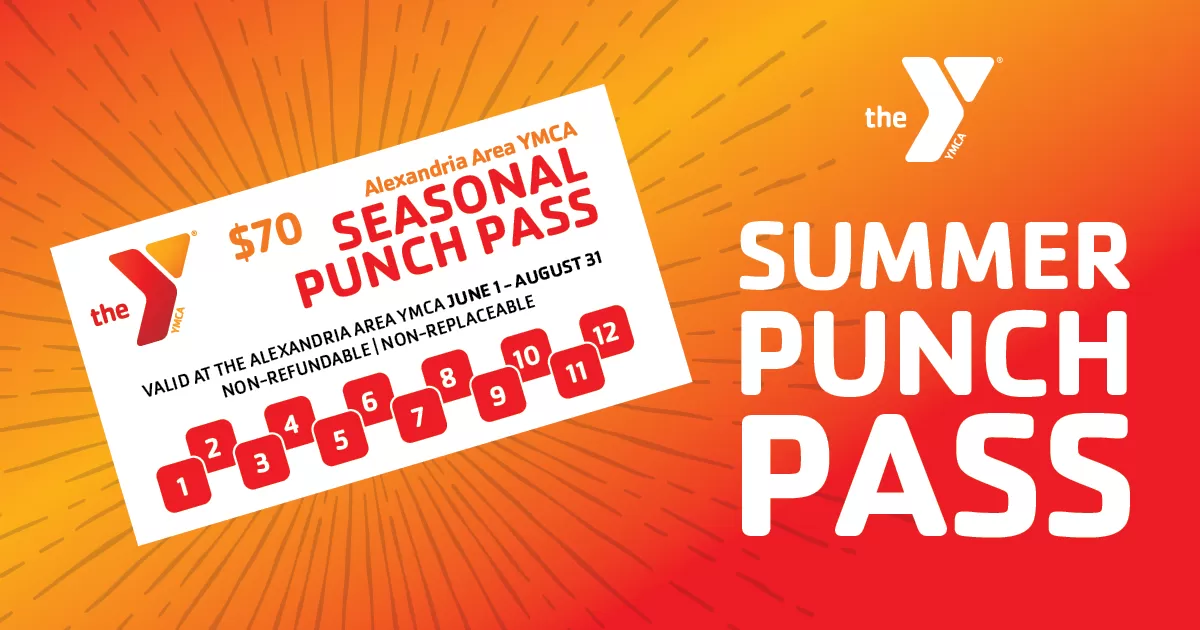 It Starts Today!
The Y is a non-profit like no other. When you join the Y, you're coming together with men, women, and children from your community who are committed to youth development, healthy living, and social responsibility.
State-Of-The-Art Fitness Center
Includes exercise machines, stretching areas, free weights, and a weight room.
Gyms, Running Track, & Pool
A safe environment for swimming, fitness, and running for all ages and abilities.
Free Group & Water Exercise Classes
With over 60 types of classes to choose from, you'll find something that's right for you.
Free Child Care While You Workout
We offer creative play, arts & crafts, story time, and more!
Nationwide Access
Membership gives you free access to all participating U.S. YMCA locations.
No Annual Fee
We believe our services, and not a contract, are what matter.
Members Save
Members enjoy discounts on camps and programs like swim lessons, personal training, and more!
MEMBERSHIP & ENROLLMENT 
A $55 joiner fee is paid upon membership sign-up. This is a one-time fee, except in the case of a lapse in membership, and helps maintain and improve our facilities. To start today, please stop at our front desk to fill out a membership application!
| Membership Type | Description | Monthly Rate |
| --- | --- | --- |
| Youth | 17 and under | $22.00 |
| Young Adult | 18-24 years | $38.00 |
| Adult | 25+ | $53.00 |
| Two Adults | Two Adults, no kids | $72.00 |
| One Adult Household | One Adult + kids | $68.00 |
| Two Adult Household | Two Adults + kids | $78.00 |
BILLING & CANCELLATION
Your membership charges can be paid in the following ways:
Automatic withdrawal from your checking account
Automatic debit from your credit card
3, 6, or 12 month advance payment by cash or check
You may cancel your monthly membership at any time by coming to the YMCA, completing a cancellation form, and turning in your membership card(s). The cancellation form must be completed prior to the 20th of the month, to terminate for the following month. Memberships are non-refundable.
Members may place their membership on hold for up to 3 months, once per year. To do so please visit our front desk to fill out a hold form and pay the $15 fee to do so.
ARE YOU READY?
Join today by visiting the Alexandria Area YMCA at 
110 Karl Drive, Alexandria, MN 56308